Paying for underwear is SO last season. I mean, who still does that?
Unless you have some strange obsession with Hanky Panky thongs, buying underwear is a waste of your hard-earned money. Why? Because Victoria's best kept secret is PINK Nation, an "exclusive" club (anyone can join) that hands out free undies like they're candy on Halloween.
Photo Credit: Victoria Secret
Every single month, a cute little coupon will come in the mail and there's usually no purchase required to snag your new treasure. I literally have a stock pile in my underwear drawer...picking out undies has honestly never been so exciting!
Occasionally they give away water bottles, little stuffed pink dogs, beach bags and other goodies you'll probably never use but it's still nice to get them for free (or give them as last minute holiday gifts in moments of extreme desperation).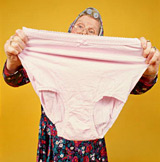 Photo Credit: crasstalk.com
Tip: Sign your Mom up too and then double up on the freebies...because Lord knows (or hopes) she's not still wearing lacy low-rise hipsters or anything correlated to the word "cheeky"! All Mom's should be wearing these: ----------------------------->
So save your $5 for $25, join PINK Nation immediately and spend your savings on things in life that really matter...aka shots, cupcakes and sushi.
Sign up here:
JOIN PINK NATION!